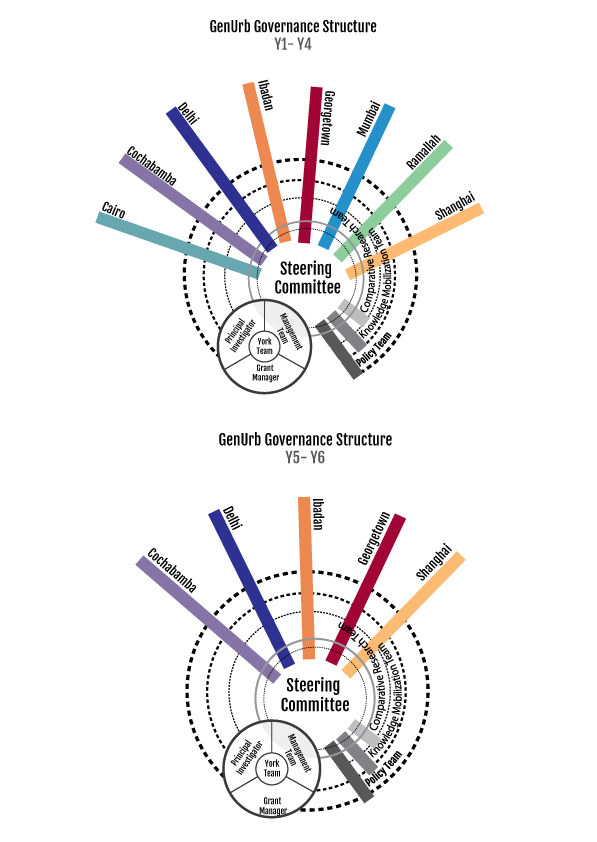 The GenUrb project includes eight City Research Teams (CRTs) that are conducting research in the following cities: Cairo, Egypt; Cochabamba, Bolivia; Georgetown, Guyana; Ibadan, Nigeria; Delhi, India; Mumbai, India; Ramallah, Palestine; and Shanghai, China. The Delhi CRT joined GenUrb in Y4 of the project.
In addition to the CRTs, GenUrb also includes the following: a Comparative Research Team (CoRT), who aim to ensure that dialogue is fostered between the CRTs, and who spearhead the comparative analysis; a Knowledge Mobilization Team (KMb), who aim to ensure that the CRTs utilize the latest technological developments for analysis, presentation of data, and KMb practices, that knowledge exchange and debate is fostered between partners, that the research is disseminated among all end groups, and that KMb is comprehensively addressed; and a Policy Team, which is made up of existing members of the partnership who have policy expertise in order to strengthen our work with policy shapers.
The Steering Committee consists of five CRT team leads, two members from the CoRt team, the PI, the Grant Manager, and GenUrb Post-Doctoral Visitors (PDVs), who implement the vision of the partnership and approve any changes to its intellectual direction; oversee the research, including planning events; ensure timely progress of the project according to annual expectations, including knowledge mobilization; present an annual budget; and engage in any necessary troubleshooting. It communicates with all project participants.
The International Advisory Board comprises four rotating members who will act as ambassadors for the partnership, advocate for policy engagement, advise on research, are a potential instrument of change and a sounding board.
The Management Committee handles the daily management of the project, which is undertaken at the City Institute, by a GM, the PI, and PDVs. It sets meeting agendas, oversees financial reporting, student hiring, and knowledge mobilization (KMb).