Researchers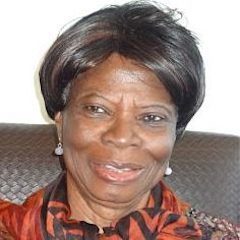 Simi Afonja
Professor Afonja started her career as a Research Assistant in the Department of Sociology, University of Birmingham in 1968. She was employed by the University of Ife, Nigeria, as an Assistant Lecturer in 1969, was promoted to Professor in 1986 and retired in 2007.
As a renowned national and international scholar she worked with international agencies, federal, state, and local government, community-based organizations and donors in policy and program development, implementation, monitoring, and evaluation. As a member of the sixteen-nation task force that pioneered rapid assessment procedures, she displayed methodological and theoretical skills in their applications to the design of the Bamako Initiative and other primary health care issues in Nigeria, the national population policy, the national food and nutrition policy, poverty assessments, and gender and good governance issues. She led several national baseline surveys including the National Baseline Survey of Harmful Traditional Practices Affecting Women and Girls and the two-person team that drafted the National Policy on Women, to name a few.
Professor Simi Afonja retired from Obafemi Awolowo University in 2007 after 38 years on the academic staff of the university to lead the Centre for Human Development as Executive Director and direct several major projects.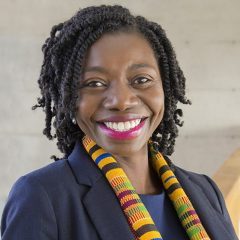 Sylvia Bawa
Sylvia Bawa is a member of GenUrb's Ibadan City Research Team. She is an Assistant Professor at the Department of Sociology at York University. She is a global sociologist whose research interests revolve around interconnections of globalization, structural inequality and discourses of culture, and women's rights in Sub-Saharan Africa. She researches, writes, and teaches in areas of human rights, postcolonial and third world feminisms, critical development studies, women's rights and empowerment, and sociology of globalization and social change.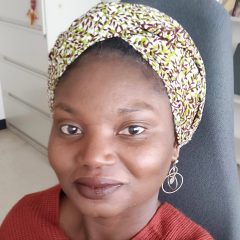 Grace Adeniyi Ogunyankin
Grace Adeniyi Ogunyankin is a co-investigator with GenUrb and the Ibadan research team's lead researcher. She is currently an Assistant Professor in the Department of Geography and Planning at Queen's University in Kingston, ON, Canada. She is interested in urban renewal and new city building projects in Nigeria and Ghana. Specifically, she focuses on the politics of gender and the political economy of neoliberal urbanism. She also engages with the paradoxes of 'Africa rising' narratives in popular culture.
"Challenge" Neighborhood – Ibadan

Ibadan: Challenge, a key gateway to the city and a bustling commercial area that has many informal and formal markets, is undergoing urban renewal with many new projects, which have consequently exacerbated spatial inequalities while also turning Challenge into a site of resistance. This neighbourhood provides an opportunity to understand how poor working women move in and out of 'wealth' as they negotiate the volatile economy and government attempts to displace the urban poor.
Ìbàdàn: Challenge, ọ̀nà kan pàtàkì sí àárín ìgboro àti àgbègbè ibi ìṣekárà-kátà tí ó ní ọ̀pọ̀lọpọ̀ àwọn ibiìtajà ìgbàlódé àti tìbílẹ̀, ti ń gba àyípadà sọ̀gbẹ́dìgboro nípaṣè àwọn iṣẹ́ àkànṣe tuntun, èyí tí ó ti mú kí àìdọ́gba di púpọ̀ tí ó sì tún ń sọ Challenge di ibi tí àwọn ènìyàn ti ń dìde lòdì sí ọrọ̀ ìdájọ́ṣẹ̀gbè.

Àdúgbò yìí fúnni ní àǹfààní láti ní òye ìwọlé sínú àti ìjáde nínú 'ọrọ̀' àwọn obìnrin mẹ̀kúnnù bí wọ́n ti ń dínàádúrà lórí ọ̀rọ̀ ọrọ̀-ajé tí kò dúróore àti ìgbìyànjú ìjọba láti lé àwọn mẹ̀kúnnù tó wà nígboro kúrò.